Enemy Territory
Evolution Challenge - Lower bracket final
Three teams left! Who will join the grand final and face the guys from the old team overload who found a new home at Team Decerto side? The decision will be made on Monday when the lower bracket final will take place!
Recent results
What was already announced in the
last news (statements)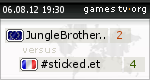 turned into truth.
sticked
were able to beat the favoured
Jungle Brothers
in a close match with 4:2. But 48h after that triumph the tournament ended for the French powerhouse.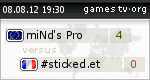 The guys from
mPG
showed them their limits by winning 4:0 and therefore
sticked
finishes 4th in the Evolution Challenge while
mPG
still can win the tournament!
The lower bracket final
But before they will join the Grand Final where the guys from
Team Decerto ET
are waiting, they need to win against a known opponent:
colt45
which beat them in the upper bracket round three. So it is time for revenge!
MAILAMAKE - mPG (lineup) Expecting us to actually be underdogs here due last game versus them lost and the fact that their players play a lot more than ours. Dont really know what else to expect, prolly a close good game

KAMZ - colt45 (lineup)
This match should be interesting. mPG has a stronger lineup now and definitely want to win badly. olBaa in our team gives us a better chance of winning as it also allows sqzz to focus more on his medic work. Even though we beat them last time, we remain the underdog here so It's a tough one to call but I'm going to stick my neck out and say that we can win this one again if we play at our best. But it should be an awesome match and i'm looking forward to it. This is what I came back to ET for! :)
More Information on the tournament
Prizes
The prizes are sponsored by
Ozone gaming gear
because it is all about evolution!
6x Ozone T-shirts
6x LAN bags with Ozone branding
6x wristbands with Ozone branding
6x Groundlevel Mousepads
The prizes are sponsored by Ozone gaming gear. The Electronic Sports League is not responsible for the prizes. Shipping by Ozone gaming Gear!
All possible thanks to our partners!
Good Luck to all teams!
//Your
Admin Team
Sn4kE
, Sunday, 12/08/12 11:39
No comments yet.
Information:
info write comment not allowed