Enemy Territory
Kick Off Winter Leagues!
A new year has arrived and it is time to get the leagues started! All swaps are done, all teams are ready. Here we go with the Winter Leagues 2012! Several matches are already scheduled while other teams are still completing their line up for this season. Two days left till the first matchweek will start!
6on6 Winter Leagues Opening Match
The first match of the new year will call our attention to 6on6, Division 1, Group C. The guys from
Game Play Servers
will take on
CashPlease
.
While the odds leave no doubt about the outcome of the match the statements sound a bit more encouraging. Check out all match details by clicking on
expand
!
Pre-Match Statements & Predictions
dAv1d from CashPlease
Team is going good, I guess. We actually didn't played all 6 together but we are all very good/smart individual players so we all know what to do. I really don't know what to expect from this match, it's our first match together so everything can happen. Splendid are as well a good team so we won't underrate them, but we'll see how it goes and lets hope for a clear 4-0 win.
Players to watch: sqzz, night, clown or mental


Clown from CashPlease
Well, we haven't played as a team yet, but we are quite active individually, playing mixes etc. Obviously, we expect to win, but I guess they are a good opponent, so it won't be easy. Player to watch is Jere, or miNd who will maybe replace him for this match!



danL from Splendid gaming - Encrypt
Well I can say I'm satisfied of how our team has been developing for the past few months, we're getting better by the day and hoping to get to the stage where we can give a real hard time to the best teams out there, maybe just not yet ready to put up a challenge for cashPlease but we will surely do our best, at least to provide an interesting match to watch. I'm really hoping we can take one map and if there's a map to do such a thing then it's surely adler, so I'm gonna be very optimistic here and say it's gonna be 4-2 for cashPlease.
As for the player to watch, from their team it's Night and for us, well just watch us all because we're not a bunch of individuals but a team that relies on teamplay.


hvK from Splendid gaming - Encrypt
: Even though pracs are going well, I can still see us getting raped 4:0, we'll still go into the game and try to take a map but we're mainly focused on the other games if we're to go through, player to watch is probably eujen or mental



Match Review & Highlights - made by Kwizlord
Splendid gaming – Encrypt had problems with their lineup since
eujen did not show up. So they replaced him with
Ajit.
CashPlease started
Goldrush
on Axis and
Splendid gaming – Encrypt on Allies, first round ending in
Splendid gaming – Encrypt making a time of 13:37 which was no problem for
CashPlease that beated the oponents time with 6:19. .
On Adlernest
Splendid gaming – Encrypt showed more teamwork than on previous map. They have fought till the end and was so close to win the map, causing a lot of problems for
CashPlease. In a last attempt to deliver the objective,
Splendid gaming – Encrypt was stopped by the well-known estonian superstar,
Night, match concluding in a 4-0 victory for
CashPlease with their opponents unable to beat their time on adlernest(4:24).
After-Match Statements
danL from Splendid gaming - Encrypt
It was a fun match, enjoyed it, thanks to CashPlease for letting us use someone instead of that german guy, I am a bit disappointed that we didn't manage to take adlernest but I think we tried really hard and provided an interesting match for the viewers, some tactics didn't go as planned but it was fun in the end and that's what we all want. I can't really name an individual that gave us headaches because I didn't keep track who is wtf pwning us, just noticed that as a team they bashed us a bit. As for the advice for the opposite team, hmm, maybe watch out for coverts. :P


hvK from Splendid gaming - Encrypt
: eujen let us down by deciding a 3v3 ladder match was more important which was ridiculous, I can't see myself playing in the same team with him again, he knew we would prac today and play the game against CashPlease, at which point he asked danL earlier tonight if we were going to play, danL said yes but eujen decided to go ahead and play a 3v3 CB Ladder game anyway, and when we needed him to come he basically told us to go screw ourselves because apparently a 3vs3 ladder match is more important.

Clown from CashPlease
Well, I think it's not cool that eujen decided to not play, even if he thought that they will lose and there is no point to play, he with his actions ruins their teams atmoshphere a bit. I think from the opponent team, they all gave us troubles, they played well together, revived a lot and just generally moved as a unit. We had some problems in the game, mostly from people not knowing what others will do, and by not knowing that they got fulls etc. It was a nice game anyways, I have no real advice for opponents, other than that they should keep playing like they are, because they are on the right track.


3on3 Winter Leagues Opening Match
The opening match for the 3on3 tournament will take place right one day after 6on6 started. The match in Group B, Division 1 also means the next mission for several guys from
Game Play Servers
who will meet under the flag of
randomZ
and take on the guys from
supski
Check out all match details by clicking on
expand
!
Pre-Match Statements & Predictions
mental from randomZ
I think we'll win this game 4:0 and I hope it'll be an exciting match! If you want to see some brained engi stuff you can spec eujen for everything else you can spec razz =)"




IceQ from supski
I haven't been performing well lately, but heck maybe it's just me ! I expected this to be a tight match, 4-2 for randomZ! Man to watch would be razz, I guess.





Match Review & Highlights - made by Kwizlord
First map,
randomZ started on axis side and
Supski on allies.
RandomZ totally squized their opponent and holded flag for a long time. After being fullholded by their opponents,
Supski still didn't gave up and keep on fighting but that didn't stop randomZ nor
Mental, who had 37 kills and showed how to get double/tripple kills. RandomZ beated the clock making a time of 7:38.
After first map,
randomZ started on allies side but this time
Supski was in the spotlights and showed nice teamwork on beginning of the map by defusing
Mental's dynamite at east wall. There were some nice frags from both teams and we can mention
woDka which had 21 frags and some amazing luger frags.
Supski was unable to defeat the time(4:34) made by their opponents, so the victory went to
randomZ, ending this match with a score of 4-0.
After-Match Statements
mental from randomZ
The game went well as predicted. We had some problems getting a decent 3rd but luckly woDka was avi to replace eujen. About the lineup change: eujen doesn't want to play ET now at all due personal problems therefor we need to find a 3rd who will finish the WinterCup with us. Anyway good game.


FUMBLE from Supski
The other team was definately stronger, however we feel with more practices we will surprise in the upcomming games. Piegie is a little bit rusty at the moment so in future games we will definately perform better. We expected the other team to win as they have a stronger lineup, the match ran smoothly thanks to the presence of an ESL admin, we swapped IceQ for Piegie because IceQ had to go eat a dog.


Matchweek 1
All other matches will follow on Sunday at the latest. Here is a little overview about all current confirmed matches:
6on6 - 1st - 4th Division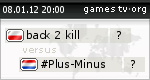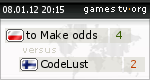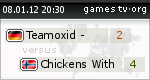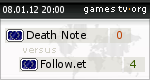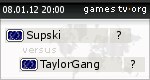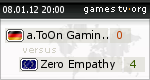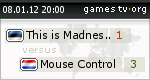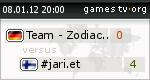 3on3 - 1st- 4th Division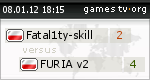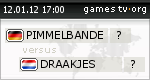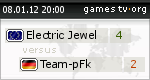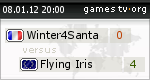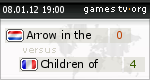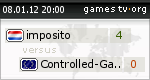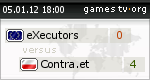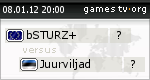 Miscellaneous
We got several questions regarding a correct rescheduling. We have set up a small FAQ which will clear that topic for 100%
FAQ Reschedule
Good Luck to all participating teams!
//Your
Admin Team
Sn4kE
, Saturday, 31/12/11 15:11
No comments yet.
Information:
info write comment not allowed