Enemy Territory
Evolution Challenge - Grand Final!
After 6 weeks, Evolution Challenge is coming to its end with Grand Final. Which team is going to defend their title and win this cup? Lets not forget that colt 45 has to win Team Decerto two times to win Grand Final. Expectations are high, but all is going to be decided on the battlefield. Stay tuned and spectate match on gamestv.org!
Match & Road to final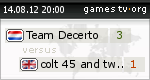 It is going to be a very interesting match, with very known players to Enemy Territory community. It will surely be hard game for colt 45, since they have just joined Grand Final from Lower Bracket after eliminating
mPG
with score
4:0
. We are sure that both teams will show their best and fight till the last breath!
Statements & Predictions
saKen - Team Decerto a.k.a. Overload (lineup)
We're looking forward to the final match of this tournament. I suppose our position is a bit more comfortable as colt45 will have to beat us twice to take first place. However we shouldn´t underestimate them. We´ve played them a couple of times recently so should know what to expect, it´s up to us to prepare for that and stop them. I think it will be a good match and ofcourse we're looking to take the win. This is also our first serious game playing as Team Decerto ET and we hope to make them proud.
KAMZ - colt45 (lineup)
I am looking forward to playing mikehs low gamers. We lost to them last time 4-2 so this will motivate us to want try and beat them. Our last match with mPG was surprisingly fairly easy and we thought they would give us a closer game but obviously we're happy with that. We want to win this tournament and I am glad we're in the final of this one.
More Information on the tournament
Prizes
The prizes are sponsored by
Ozone gaming gear
because it is all about evolution!
6x Ozone T-shirts
6x LAN bags with Ozone branding
6x wristbands with Ozone branding
6x Groundlevel Mousepads
The prizes are sponsored by Ozone gaming gear. The Electronic Sports League is not responsible for the prizes. Shipping by Ozone gaming Gear!
All possible thanks to our partners!
Good Luck to both teams!
//Your
Admin Team
Kwiz
, Tuesday, 14/08/12 17:10
No comments yet.
Information:
info write comment not allowed