ESL Major Series Season IV Enemy Territory
ET EMS: Lower Bracket Final
The Enemy Territory EMS is coming to its end. Just two matches are left until we know Europe's best Enemy Territory Team of Spring/Summer 2009!
Before we reach the consolidation final where H2k.Spam is already waiting, the Lower Bracket Final is coming up.
This match could be accused as a match without a loser. Why? The loser wins
100 €uro
in cash while the winner of this match will gain into the last and decisive round battling for further 400 €uro - the Consolidation Final where
H2k-Gaming
is already waiting with a clean record!
The two Lower Bracket Final teams facing each other are
Team Decerto ET
on the one hand and
mASCULINE_MANS
on the other hand. These teams did not meet yet but the results of each team tells their own stories and we can expect a nice match!
could not load match with id #14155851
We caught some players of both teams to have a statement:
We have pracced more than ever after EC and im very confident about my team. 141 is a great team, but i think we could beat them if everything goes well.
Afterlife|ENSAM
We're only finishing ESL with this lineup so I'm not expecting much from this game especially since we're missing some guys who are on holiday. Nevertheless we will try our best to destroy these ALLSTARS from Finland, ECwinners and all that.
141|saKen
GamesTV.org
made it to the match of the day and up to now more than
900 slots
on ETTV servers and two
live Shoutcasts
have already been confirmed. More will follow for sure, so do not forget to check
GamesTV.org
for all information on coverage: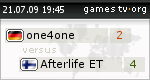 Shoutcast:
Language:
YourStation #1 By:
nekris Turn in!
Shoutcast:
Language:
sIN.Gaming Stream #1 By:
FimS Turn in!
Sn4kE
, Monday, 20/07/09 23:42
No comments yet.
Information:
info write comment not allowed