Arctic Combat
Arctic Combat - Country Championship
The open beta for Arctic Combat has been ongoing for quite a while and now it's time for some serious competition. Early in 2013 we will bring you the Arctic Combat Country Tournament powered by Webzen. In the Country Tournament teams will first play a national qualifier and will then have a chance to battle it out for 500€ prize money, if they manage top proceed to the finals.
Read on for more information!
Arctic Combat Country Championship
Arctic Combat Country Championship


Slots (Playoffs): 8 Single Elimination (The slots of the Qualifiers are unlimited!)
Sign-up start: 24.12.12 00:01 CET
Sign-up end: 05.01.13 20:00 CET
Seed: 06.01.13 20:00 CET
Qualifier: 07.01.13 - 11.01.13
Finals: 13.01.13
Support: Ticket!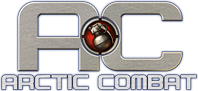 Room Settings

Mode: 5v5 Search and Destroy
C4 Possession: Single
Rounds to win: 10
Maps: Silo, New York, Downtown
Submode: N/A
Round Time: 2:00 Minutes
Items: All items are allowed
If a violation of any these settings are found the hosting team will be disqualified.
National Qualifier
There will be five different qualifiers, four qualifiers are bound to different countries amongst Europe and one qualifier will be for teams from all countries without an own national qualifier. Countries with a national qualifier can't participate in the open qualifier!
To participate in a National Qualifier at least 3 of your active line-up players need to have their permanent place of residence in the respective country! All invalid applications will be rejected!
Open Qualifier (1 Slot) - 07/01/2013 19:00 CET
National Qualifier -
Italy (2 Slots) - 08/01/2013 19:00 CET
National Qualifier -
Germany (2 Slots) - 09/01/2013 19:00 CET
National Qualifier -
France (1 Slot) - 10/01/2013 19:00 CET
National Qualifier -
Poland (2 Slots) - 11/01/2013 19:00 CET
Of course these rules also apply to the Open Qualifier.
Rewards
Prizes
Place
Reward
1st
300 € + 5,000 Wcoin + Red Tiger M4A1 (30days)
2nd
200 € + 5,000 Wcoin + Red Tiger M4A1 (7 days)
3rd / 4th
5,000 Wcoin
5th ~ 8th
3,000 Wcoin
Cash & Wcoin is for the entire team / items are for all members
Arctic Combat
Enjoy various game modes including team deathmatch, search and destroy, domination and more. Both newcomers and skilled players can practice their FPS skills with the advanced AI BOT system and become the veteran that dominates the battlegrounds.
Arctic Combat features tactical support systems with various modern military assets including helicopter fire support, artillery strike, UAV support, AT4 rocket launchers, flame throwers and more.
Face
, Saturday, 22/12/12 16:13