Provincial Championship Season II
Provincial Championship 2012 announcement
This year we're proud to present you a 2nd season of the ESL Benelux Provincial Championship! This season we'll not only include Counter-strike 1.6 and Counter-strike: Source once more, but we'll be adding two brand new games: League of Legends and StarCraft II!
Announcement
Team Captains. Do you think you can represent your province as a Team Captain? Then now apply to take that position and lead your province to be the winner of this Provincial tournament!


The Benelux Provincial Championship 2012:
Players You need to select the players that will apply for your provincial team. These players all need to live in the same province as you! Your job will be to make them play as a team and in the end win the tournament!


Tournament This Championship is going to be a summer event which will start in 4 groups with 6 teams in each group. All these groups will feature the 24 Provinces of the Benelux. After the group stage will be played the play-off system will begin!


PlaydatesThere will be matchperiods of one week each. During this week your match has to be played!
How? When exactly? Why?
All these questions are answered in the separate newsposts:
Apply as Player/Team Captain
The Schedule (TBA)
The Prizes (TBA)
Powered by ROCCAT


ROCCAT™ is a top manufacturer of professional gaming hardware and accessories – incl. cutting-edge, German-engineered mice, keyboards, headsets and mouse pads. Their commitment to professional gaming shows time after time with their continuous support to the professional gaming community and their ongoing efforts developing some of the best gaming gear ever.


Our guidelines
Generally speaking, applications will be accepted until Tuesday 15/05 23:59. After this date the polls will open and the team captains will have a few days to select the players they want in the team, once that's done the Championship can begin!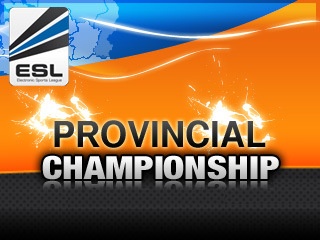 Provincial Championship
Sum
, Tuesday, 08/05/12 20:26
Information:
info write comment not allowed